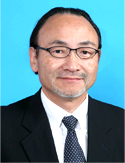 Dear Colleagues,
It is indeed our greatest pleasure to welcome you to the 47th Annual Meeting of the Japanese Society of Pediatric Surgeons which will be held in Nagoya in June 17-19, 2010.
The specialty of Pediatric surgery is a wide field of science including everything about Surgery but in a smaller surgical field. Moreover, pediatric surgery is engaged in radiological maneuvers, laboratory diagnosis and follow-up of pediatric and newborn surgical diseases.
The theme of this meeting is "Share Smiles with Sick Children Dreams and Innovation for Pediatric Surgery". We expect all participants to freely exchange their opinions and scopes of view, without being restricted by the conference topics.
We are looking forward to welcoming you in Nagoya, to celebrate with us Nagoya 400th anniversary. With my best wishes,
Takashi Hashimoto, M.D., Ph.D.
Congress Chairman
The 47th Annual Meeting of the Japanese Society of Pediatric Surgeons
Professor of Pediatric Surgery
Fujita Health University School of Medicine